Save time and avoid manual processes
As your webshop starts to get more sales, more time must also be spent on manually handling orders. Handling order stages, printing banknotes, sending confirmation emails, tracking emails etc etc. It is time consuming, tedious and there is a risk of errors.
Fortunately, there is an alternative to the many manual processes that can save you time (and thus money); namely YouWe Print Light.
YouWe Print Light is an integration to your webshop that acts as an intelligent warehouse assistant and helps you handle all your orders.
Your order form is printed automatically.
Once the order is packed, it simply needs to be scanned afterwards.
Trackingmail is sent out and payment is automatically deducted.
Furthermore, the system ensures that the tracking number is inserted into your webshop platform and any relocation of the order stage will take place.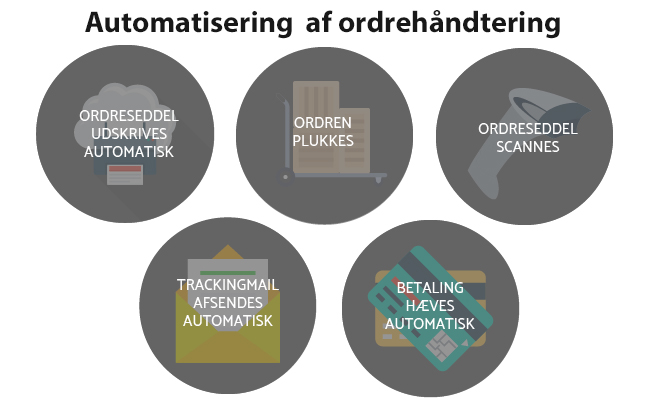 In the basic system, you get the following:
Automatic printing of order slips
Automatic sending of tracking email
Automatic withdrawal of payment
Automatic entry of tracking numbers in the webshop
Automatic transfer of order stage
Watch video at https://youwe.dk/youwe-print-light/
Prices:
0-10 daily orders: 199, - pr. month
11-30 daily orders 399, - pr. month
31-50 daily orders 599, - pr. month
51-100 daily order 799, - pr. month
101+ daily orders 999, - pr. month
The calculation of daily orders is made by taking an average over the last 90 days.
All prices are excl. VAT and in Danish kroner.
NOTE:
It is required that you have an A4 printer as a minimum.
It is recommended that you have a general label printer, but not a requirement.
It is recommended that you have a barcode scanner, but not a requirement.